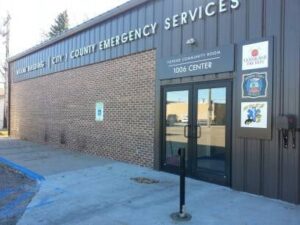 Advance Voting Polling Place: 813 Broadway, Rm 102  Goodland, KS 67735
Advance Polling Hours: 8 AM – 12 PM and 1 PM – 5 PM (MT)
Election Day Polling Place: 1006 Center Goodland, KS 67735
Polling Hours: 7 AM – 7 PM (MT)
Upcoming Elections:
August 2nd, 2022 – Primary Election 
November 8th, 2022 – General Election
Ashley Mannis
Election Officer
Telephone: 785-890-4806
Fax: 785-405-4809
To help facilitate participation for all elections in Sherman County in 2020, registered voters can complete the application below to have their ballot mailed to them. To receive a ballot via mail, the attached application must be filled out. Applications are valid for one election. If you would like to receive a ballot by mail for more than one election, please complete and submit an application for each election.

To return your application for voting via a mail ballot, please return your form via one of the following methods:
– Mail: 813 Broadway, Rm 102 Goodland, KS 67735
– Email: election@shermancountyks.gov
– Fax: 785-890-4809
Candidate Filing Deadline
Jun 1 by Noon
Last Day to Register to Vote in Primary Election
July 12
Advanced Voting Ends for Primary Election
August 1 @ Noon
Primary Election
August 2
Last Day to Register to Vote in General Election
October 18
Advance Voting Ends for General Election
November 7 @ Noon
General Election
November 8