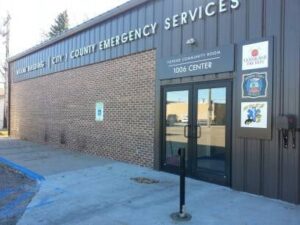 Advance Voting Polling Place: 813 Broadway, Rm 102  Goodland, KS 67735
Advance Polling Hours: 8 AM – 12 PM and 1 PM – 5 PM (MT)
Election Day Polling Place: 1006 Center Goodland, KS 67735
Polling Hours: 7 AM – 7 PM (MT)
Upcoming Elections:
August 1st, 2023 – Primary Election (if required)
November 7th, 2023 – General Election
Ashley Mannis
Election Officer
Telephone: 785-890-4806
Fax: 785-405-4809
Election results can be viewed here.
To help facilitate participation for all elections in Sherman County in 2020, registered voters can complete the application below to have their ballot mailed to them. To receive a ballot via mail, the attached application must be filled out. Applications are valid for one election. If you would like to receive a ballot by mail for more than one election, please complete and submit an application for each election.

To return your application for voting via a mail ballot, please return your form via one of the following methods:
– Mail: 813 Broadway, Rm 102 Goodland, KS 67735
– Email: election@shermancountyks.gov
– Fax: 785-890-4809
The post-election audit of the results from the 2023 General Election will be on Thursday, November 9th, 2023 at 9:00 AM (MST) at the Sherman County Clerk's Office.
Candidate Filing Deadline
Jun 1 by Noon
Last Day to Register to Vote in Primary Election
July 12
Advanced Voting Ends for Primary Election
August 1 @ Noon
Primary Election
August 2
Last Day to Register to Vote in General Election
October 18
Advance Voting Ends for General Election
November 7 @ Noon
General Election
November 8
Sample Ballots can be viewed here.