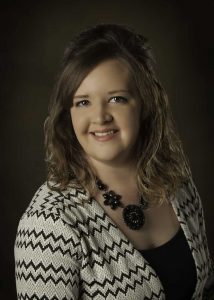 Ashley Mannis
County Clerk
Telephone: 785-890-4806
Fax: 785-890-4809
In Sherman County, the county clerk serves as the county election officer, ada coordinator, drug & alcohol coordinator and freedom of information officer.
Monday – Friday
8:00am – 12:00pm
1:00pm – 5:00pm
Duties of the Clerk's Office
 Serves as the accounting officer for the county and is responsible for the budgetary accounting for all the various funds within the county.
 Sets the levies to raise the tax dollars required to fund the taxing districts and prepares the levy sheet.
Prepares tax abstracts for the County Treasurer, showing the distribution of the tax dollars to the various taxing districts and funds.
Responsible for maintaining the tax records for taxpayers in Sherman County and the ownership records of real estate and severed minerals.
Prepares the valuation and tax abstracts for the Department of Property Valuation that are submitted in July and November of each year.
Serves as secretary to the County Commissioners which includes: taking minutes of their meetings, preparing meeting agenda, research for the board as requested and handles correspondence for the board.
Designated contact person to obtain information regarding Freedom of Information. To request an Open Records Request Form, click on the Forms link above.
Designated agent for the Kansas Public Employees Retirement System (KPERS).  Includes enrolling employees in KPERS, annual reporting, death and disability.
Any and all other duties in the Statutes of the State of Kansas for the County Clerk and Election Officer.
The Accounts Payable department is responsible for paying all bills for the departments of the County and issuing purchase order numbers to the departments prior to purchasing goods or services and encumbering the funds to insure compliance with cash basis and budgetary authority.
For a Purchase Order # or for questions regarding Accounts Payable please call 785-890-4806.
Sherman County Budgets
Sherman County Clerk is responsible for preparing the Sherman County budget and assisting townships in preparing their budgets.
Verify the various taxing district's budgets (City of Goodland, City of Kanorado, USD #352) to ensure compliance and that there aren't any levy violations.
File the various taxing district's budgets with the Department of Administration.